Well we're back! It was nice to be able to get away and have a little vacation. It was just sad that Emjae and I were by ourselves with out James for a whole week. I know that since I am more grown up and have my own little family that I appreciate the small things that my mom did for us while I was growing up. It was nice to be able to wake up in the morning with Emjae and go give her to play with Oma while I went back to sleep. Thanks Mom!
Emjae sure had a blast over in Vegas. She got to crawl on the ground with oma and opa,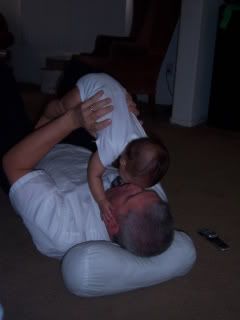 she had a personal walker to walk her around the whole house, she had the tallest seat in the house, she met all her second cousins, she ate good food, she played in the sink,
she got to sit in the bishops seat, she got kisses from a boy at church and from grandma greats dog Precious and just had so much fun!! It is hard being the distance away from my family, but I know that she wont forget them. We arrived on sunday and monday when my dad came home from work, he opened the door and emjae smiled so big and started crawling to him. It was the cutest thing.
I will say the only thing she did not like was the play saucer. She loved all the toys around it and would stand up to play with them, but she did not want to be put in it. We could not understand it for the life of us. She wanted to be standing all the time so we thought it would be great! We were so wrong and I am glad we were able to borrow one before mom was able to go and buy one. The only time she really liked it was when she was eating or really really happy, and even then it would only be for 5 minutes or so.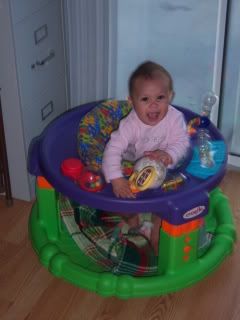 My crazy child!!!!