YAH!!! Trevor is home! He is the oldest of the 3 boys, but younger than me. :) He served a full 2 years in Honduras. He came home November 6th (the same day as his birthday) and unfortunately we were unable to be there. We did however make there this last weekend. The trip was not only for Trevor but for Amy and Alex. They both went throught the Las Vegas Temple on Saturday. After wards we all went to New York Pizza and Pasta. We had a party on 15.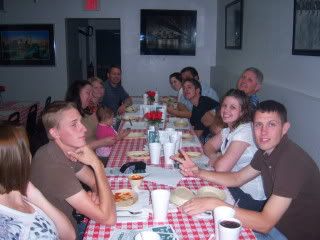 Trevors friend Justin (or Martin as the fam knows him), his wife Julie, us 7 Burns plus James, and Alex and Amys friends Steve, Linda, Paige and Connor. It was such a blast. One of the things I do love about coming home is I will always get a room! Some one gets kicked out so James, Emjae and I have a place.
It was of course Alex this time. Starting this Saturday he will be joining the Married Club so he no longer will be getting kicked out of a room, unless Amy says so. :) It def. is a full house when all the kids are home. My parents have a 4 bedroom house, and well there was need of 7 rooms. Paul and Alex got couches or a floor, and Erik got the hide-a-bed down stairs. Speaking of stairs, our little angel decided to climb all the way up the stairs. She just doesn't know how to slow down!
Sunday was Trevors home coming talk. He did such an amazing job, and you can tell he has grown and learned alot. Everyone plus some that weren't at the sealing were there at the church.
Congratulations to Trevor, Amy and Alex!!!