Yesterday was Emjae's first trip to a big city.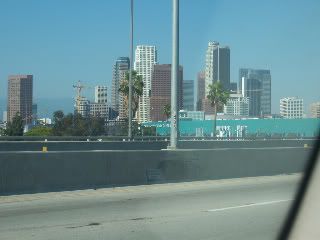 And her longest road trip.
James had the day off so the 3 of us went to the Museum of Tolerance in LA. When you begin the tour of the Holocaust you are given a card with a name and photo of a child. Through the tour you learn a little more about this child at certian kiosk. At the end you find out what happend to the child. James and I ended up with 3 cards. Two out of the 3 died. The last one though was 17 by the end of the war and weighed 65 lbs. As we read on, we found out that this person is still alive and that he actually works at the museum. Unfortunately he left for the day by the time we were done. Emjae was so good most of the time. She cried only really once during the tour and since its a video tour and you move from spot to spot, I ended up moving ahead and fed her. After that she was did great.
Since we were so close to the Temple we decided to make a little stop at the visitors center.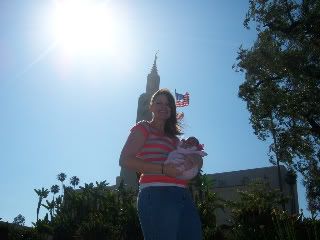 We got there and found that they have been renovating it for almost a year now. So we just took a couple pics out on the grounds and left cuz it was so windy.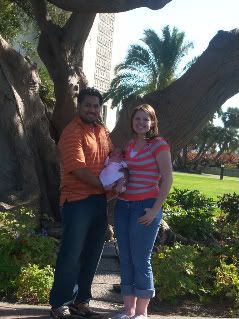 On our way home Emjae fell asleep in the car, like she usually does.
We stopped off at Aunt Helenes and Wes' place first though. We had to watch the Lakers play on the big screen and of course Emjae wanted to see her auntie! I fell asleep before the 4th quarter and Emjae fell asleep on Auntie and then Helene fell asleep too.
Over all it was a great day!!!