Today has been a busy day for Emjae. She is now rolling over consistenly from her back to her stomach and she seems to only do it when no one is watching. This morning I put her on the floor and went to my bedroom for a quick sec and when I came out she was on her stomach. I went to go tell James, but he was still sleeping. It is so exciting seeing her do these things. She even now is holding up her stomach as well as her head.
Im guessing pretty soon she will be crawling and moving like crazy. The next milestone dad isn't happy about and didn't think it would happen for a long time, but yesterday Emjae held hands and even shared her hand eating with the bishops grandson Noah.
James says she can't see him anymore and I just think its cute and hillarious.
So other than that things are going well still for James and I. Aunt Lisa and Uncle John bought a swinger for Emjae on Saturday.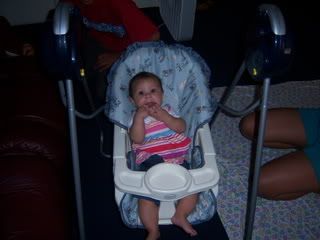 She seems to like it, but she loves leaning forward in it. Since she leans over so much to the front the chair doesn't seem to rock as much
.
It is a nice gift though and we are grateful for it.